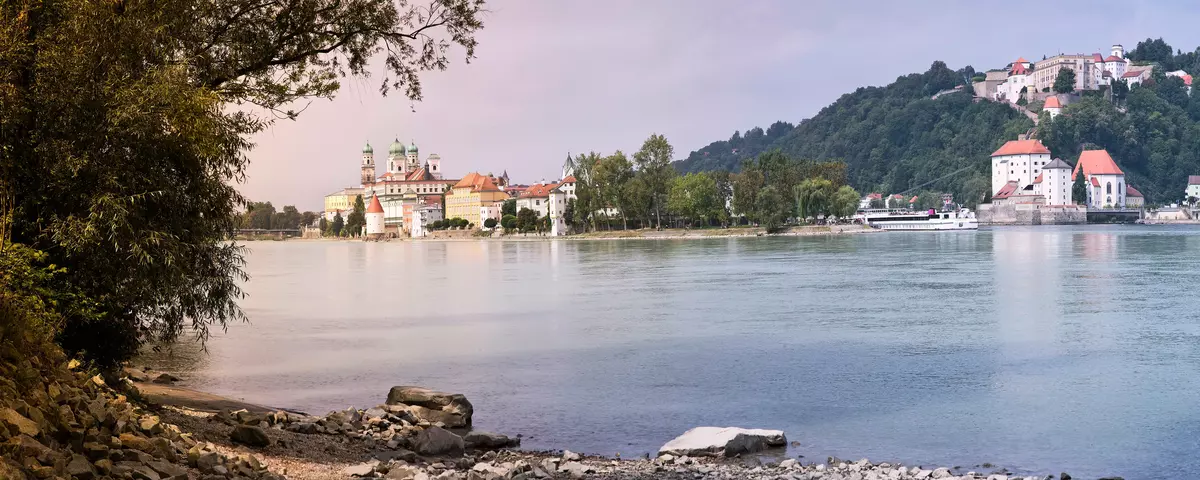 Short Notice
The protection of your personal data is very important to us. Therefore, we process your data exclusively on the basis of legal regulations (DSGVO, TKG 2003).
Summary
Responsible for data processing is Lüftner Cruises GmbH (Amraser-See-Str. 56, 6020 Innsbruck, Austria, dataprotection@lueftner-cruises.com). If you contact us via the form on the website or by e-mail, your data will be stored and used by us for the purpose of processing the request, in case of follow-up questions and for making a travel booking. The duration of the storage depends on the extent of our business relationship and furthermore on the statutory retention requirements applicable to us.
Complete Version of Data Protection Policy
Data collection
We would like to point out that the following personal data are stored by us for the purpose of simplifying the booking process and the subsequent execution of the contract:
Master data (last name, first name, address, e-mail address, telephone number)
Data in travel documents (nationality, passport number, date of birth, place of birth, issuing authority, duration)
Agency data (commercial register number, VAT number, name and contact details of the contact person)
Payment methods and information related to payments, in particular EC cards, credit cards and debit cards, as well as bank details
Destinations, requested or booked services, travel period, conditions and special services.
Contractual texts and business correspondence
Purpose of data processing & data storage
The data you provide will be used to create, fulfill and process a travel contract or pre-contractual action. In addition to handling the travel contract, these data will be used exclusively for mailings or a catalog order, as long as you have requested them.
Data processing is based on the legal provisions of § 96 (3) TKG as well as on the basis of legal and any contractual obligations, your consent and serves to safeguard the company's legitimate interests.
The duration of the storage depends on the extent of our business relationship and furthermore on the statutory retention requirements applicable to us. We emphasize, that in the case of regular cooperation in the sense of the best possible customer service, we endeavor to know your customer wishes, that have already been conveyed to us, so well that we can satisfy you constantly and permanently.
If you provide us with the personal information of third parties, you must have informed them in advance and obtained their consent to providing this information for the purposes set forth in the relevant sections of these data protection regulations.
Transmission to third parties
It may be necessary for us to disclose your personal information to third parties who perform support services for us, such as IT and software service providers, financial institutions and payment service providers, managing authorities, co-contractors for providing the services you request, parcel and delivery services, and regionally specialized tour operators for a specific source market. For service efficiency purposes, these partners and service providers may also be located in areas outside the European economic area. By agreeing to these data protection regulations, you expressly grant us permission to process your personal information for the purposes outlined here and to transmit them to the above mentioned service providers inside and outside the European economic area.


Cookies
The internet sites sometimes use so-called cookies. Cookies will not damage your computer and do not contain viruses. Cookies make our offerings more user-friendly, more effective and more secure. Cookies are small text files which are deposited on your computer and saved by your browser.
Most of the cookies we use are so-called "session cookies". They are automatically deleted after your visit. Other cookies stay on your end-device until you delete them. These cookies enable us to recognize your browser when you next visit. You can set your browser so that you are informed of the addition of cookies and only allow cookies in individual cases, exclude accepting cookies for certain cases or in general as well as activate automatic deletion of cookies when you close your browser. The functionality of this website may be limited if you deactivate cookies.
Google Analytics
This website uses the functions of the Google Analytics web analysis service. The provider is Google Inc., 1600 Amphitheatre Parkway Mountain View, CA 94043, USA.
Google Analytics utilizes so-called "Cookies". These are text files which are saved on your computer and which enable an analysis of your use of the website. The information created by cookies about your use of the website is usually transferred to a Google server in the USA and stored there.
You can find more information on the use of user information by Google in the Google data protection statement: support.google.com/analytics/answer/6004245
Google AdWords Conversion
We also use Google Analytics to analyze data from Google AdWords services for statistical purposes. Thus, in order to improve our offers, we can analyze what happens after a user clicks on our ad, e.g. whether the user bought our product or called from a cell phone from the ad. Furthermore, you will receive interest-based advertising by means of these services. If you do not wish to receive this, you can deactivate this via Google's ad preferences manager: adssettings.google.com/authenticated
Google Tag Manager
This website uses Google Tag Manager to manage website tags. A tag is a JavaScript snippet used to send information from a website to third parties, particularly as part of web tracking. The Google Tag Manager tool itself does not collect any personal data. The tool takes care of triggering other tags, which in turn may collect data (e.g., the Google Analytics tag). Google Tag Manager does not access this data. If a deactivation has been made at the domain or cookie level, it will remain in place for all tracking tags implemented with Google Tag Manager. This makes it easier to effectively implement your objections to tracking methods.
Server Log Files
The provider of the sites automatically collects and stores information in so-called log files, which your browser sends to us automatically: These are:
Browser type/ Browser version
Operating system utilized
Referrer URL
Host name of accessing computer
This data cannot be attributed to particular persons. There is no consolidation of this data with other data sources. We reserve the right to subsequently review this data, if concrete evidence of illegal use becomes known.
Social plugins
We use social plugins from:
www.facebook.com, operated by Facebook Inc., 1601 S. California Ave, Palo Alto, CA 94304, USA
www.youtube.com, operated by YouTube LLC, 901 Cherry Ave., San Bruno, CA 94066, USA
www.linkedin.com operated by LinkedIn Ireland Unlimited Company, Wilton Place, Dublin 2, Ireland
www.instagram.com, operated by Instagram LLC, 1601 Willow Rd, Menlo Park, CA 94025, USA
The plugins can be recognized by the company logo. If you e.g. click on the "Like" button on Facebook or leave a comment, the corresponding information will be transmitted directly from your browser to Facebook and stored there. Furthermore, Facebook makes your preferences public for your Facebook friends. If you are logged in to one of the above-mentioned social media platforms, you can directly assign the call of our page to your respective account. Even if you are not logged in or do not have an account, your browser will provide information (such as which web page you have accessed, your IP address) that is stored by Facebook or other social media platforms. For details on the handling of your personal data by Facebook or other social media platforms and their rights in this regard, please refer to each platform's data protection information. If you do not want Facebook to associate the data collected about you with your respective account via our websites, you must log out of the corresponding social media platforms before visiting our websites.


Newsletter
You have the opportunity to subscribe to our electronic newsletter via our website. For this we need your e-mail address, address and declaration that you agree to the newsletter subscription. You can cancel the subscription to the newsletter any time at dataprotection@lueftner-cruises.com or by using the "unsubscribe" link in the newsletter.
SSL encryption
This site uses SSL encryption for security reasons and to protect the transmission of sensitive content, such as the requests you send to us as the site operator. You can recognize an encrypted connection by changing the address line of the browser from "http: //" to "https: //" and on the lock symbol in your browser line. If SSL encryption is enabled, the data you submit to us cannot be read by third parties.
IP Anonymization
We use the "activation of IP anonymization" function on this website. Using this, your IP address is truncated by Goggle within the member states of the European Union or in other contractual states of the Agreement on the European Economic Area. Only in exceptional cases will the full IP address be transferred to a Google server in the USA and truncated there. On behalf of the operators of this website, Google will use this information to analyze your use of the website, to collate reports on the website activities and to provide other services to the website operator having to do with website use and internet use. The IP address collected from your browser within the framework of Google Analytics will not be consolidated with other Google data.
Your rights
In principle, you have the rights to information, correction, deletion, restriction, data portability, revocation and opposition. If you believe the processing of your data violates data protection law or if your data protection claims have otherwise been violated in any way, you can complain to the supervisory authority. In Austria, this is the data protection authority.


Others
The content and programming of our website are protected by copyright and performance protection law. Any duplication - also in extracts - and public reproduction, especially the copying of texts, graphics and photos, is prohibited without our prior written consent.

We have implemented organizational and technical safeguards that we store, process and continually evaluate and adapt as necessary to protect your personal information. We reserve the right to change this data protection declaration at any time and to adapt it to new developments. The new version is valid when it is provided on our website.
The current version of the data protection declaration is available at any time on the website at https://www.lueftner-cruises.com/unternehmen/datenschutz.html, our imprint is at https://www.lueftner-cruises.com/unternehmen/impressum.html.

Our website contains links to other websites. This data protection declaration does not extend to other providers. Responsibility for compliance with data protection regulations of other providers is excluded.

You can reach us by contacting:
Lüftner Cruises GmbH
Amraser-See-Str. 56
6020 Innsbruck
Österreich
+43 512 365781
dataprotection@lueftner-cruises.com
Version: May 2018